Are you afraid of the coronavirus? The answer depends on who you ask.
Dr. Robert Pearl recently surveyed readers of his newsletter Monthly Musings on American Healthcare about their fears of COVID-19 and their perceptions of the ongoing news coverage.
The survey, conducted March 10-16, drew nearly 400 responses, 60% of them clinicians and 40% from outside of healthcare.
Pearl says, "I'll admit it, the results surprised me."
As you can see in the chart below, the general public isn't nearly as afraid of the disease as doctors. Rather than patients panicking over this mysterious virus that has killed thousands of people in China, the greatest concern is among healthcare professions.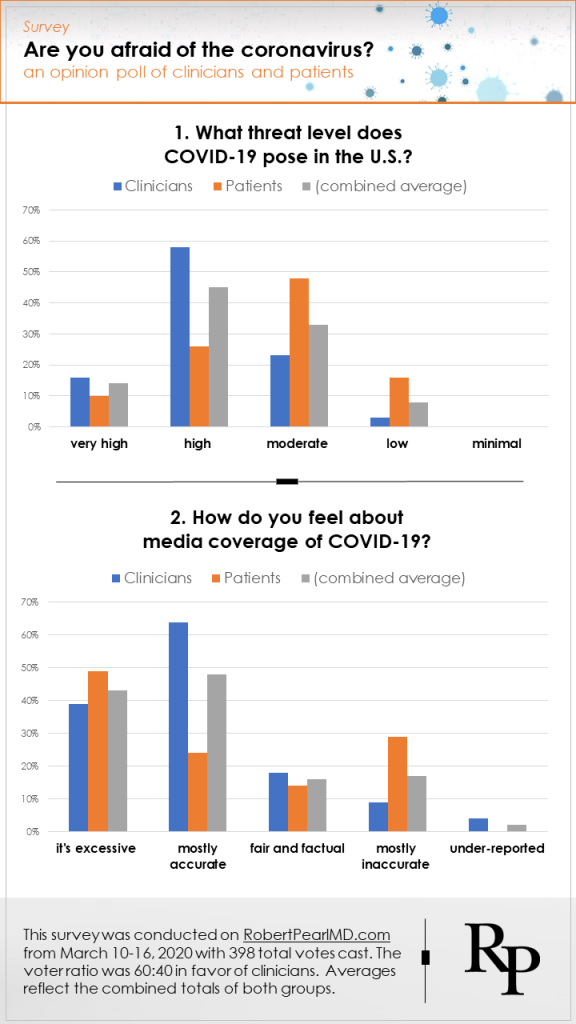 The threat level vs. the media coverage
Among clinicians, 74% felt the threat from coronavirus is "high or very high" but only 35% percent of the general population agreed.
And whereas clinicians are normally skeptical of the media, 64% said coverage surrounding COVID-19 is mostly accurate. Only 24% of people outside of healthcare shared that same perspective.
Interestingly, despite disagreeing on the accuracy of news reports, nearly half of all patients and 43% of all clinicians concurred that the volume of news coverage has been "excessive."
What do the results mean?
Pearl offers this possible explanation: "Having just experienced the flu season—which each year sickens millions of Americans and kills tens of thousands—doctors and nurses are well aware of the threat coronavirus can pose. And though patients might see the media's coverage as overkill, clinicians may see it as long overdue. Refreshing, even."
Looking ahead
Even with all the discussion and information surrounding COVID-19, Americans remain confused about the threat, the containment efforts and the status of the disease.
Based on the survey results and dozens of questions Pearl has received over the past couple of weeks, he and Jeremy Corr began a new podcast to help close the gap in understanding. The first episode of Cononavirus: The Truth was published on Monday, March 16, with a new episode coming next week.
This podcast offers science-based updates on the coronavirus, insights from public health officials and clinicians, along with an unbiased look at how the day's news and opinion are impacting American life.
To participate in future healthcare surveys, sign up (for free) to receive Pearl's Monthly Musings newsletter.
Dr. Robert Pearl is the former CEO of The Permanente Medical Group, the nation's largest physician group. He's the bestselling author of "Mistreated: Why We Think We're Getting Good Health Care–And Why We're Usually Wrong" and a Stanford University professor. Follow him on Twitter @RobertPearlMD.