In this survey, the third of the Fixing Healthcare franchise, we asked listeners: "Which of medicine's cultural issues are most concerning to you?" Options were based on insights and topics from the eight guests featured on season five of the Fixing Healthcare podcast. In case you missed some or all of those interviews, check out this Season Five Recap.
For more on this survey, visit RobertPearlMD.com.
And now, for the results: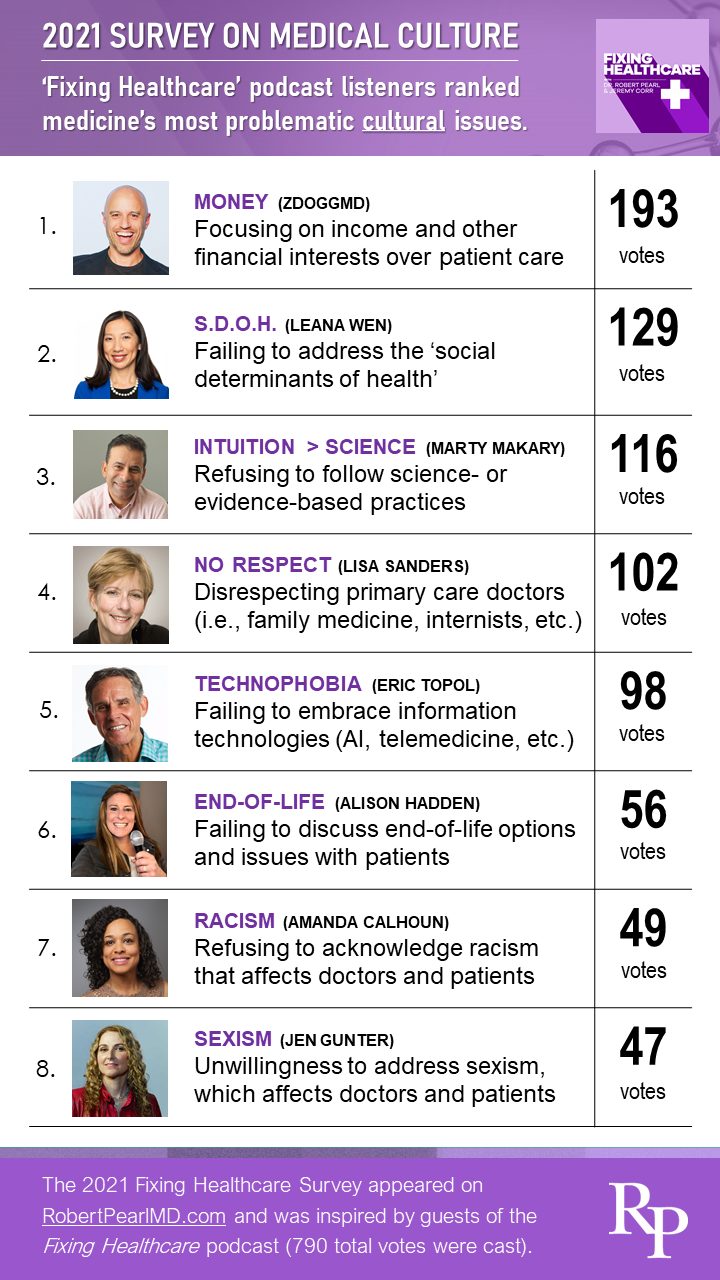 Pearl's thoughts: "I concur with those who identified money as medical culture's biggest problem. The focus on income and financial interests over patient care is extremely problematic and rooted in a system that robs dedicated, mission-driven people of their sense of purpose. Until we shift the payment structure in healthcare—to focus on value rather than volume—burnout and fatigue will continue to plague the profession."
Fixing Healthcare is a co-production of Dr. Robert Pearl and Jeremy Corr. Subscribe to the show via Apple, Google, Spotify, Stitcher or wherever you find podcasts. Join the conversation or suggest a guest by following the show on Twitter and LinkedIn.
* * *
Dr. Robert Pearl is the former CEO of The Permanente Medical Group, the nation's largest physician group. He's a Forbes contributor, bestselling author, Stanford University professor, and host of two healthcare podcasts. Pearl's newest book, "Uncaring: How the Culture of Medicine Kills Doctors & Patients," is available now. Follow him on Twitter @RobertPearlMD.